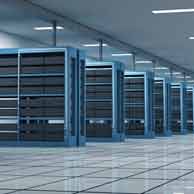 Are you considering setting up an online backup system for your business? With the rapid evolution of cloud computing it is now much more efficient to do your backups on line.
Online backup is now becoming the best value solution, with easy to use backup software and much cheaper storage costs. The new backup software also provides the added advantages of providing much faster data recovery with much less data loss because the backup is running continuously.
We all know that there are lots of risks from storing your backups at your office or business premises. No one should risk having their backup in the same place as the source data.  The usual practice is to take a daily backup to a different location. This system works but if you lose your data (from human error, natural disasters, or cyber-attacks) you will have lost a day's worth of work or transaction records.
If you are thinking about online backup here are six things that The Vault Corporation recommends you get the following things right:
1. The Right Capacity and Grade Hard Drive
Make sure your hard drive is well maintained and has the right capacity and grade for it's use for your needs. Storage capacity is becoming cheaper so there is no reason not to upgrade.
2. The Right Backup Software
Install backup software that is safe, secure and easy to use to run your backup process. After considerable research and trials we currently recommend ShadowProtect.
3. A Recovery Environment
Have a recovery environment in place to host the backup. If your primary environment is damaged, lost or compromised you will need separate hardware and software to run the backup.
4. Get Regular Status Reports
Make sure you get regular status reports on the backup process. You should regularly check that there are no problems or gaps in the backup process.
5. Quality Technical Support
Make sure you are getting the right technical support so that you have a trouble-free and quality backup process in place. Good technical support soon pays for itself.
6. Good Management Support
Taking shortcuts in setting up your system can result in a failed process. Make sure you are getting the right advice about managing your data and information backup processes from IT professionals that specialise in online backup technology.
For more information about online backup software and systems contact us.