IT Challenges – are these issues impacting your business?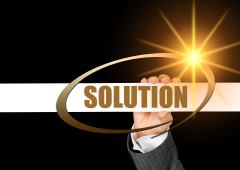 filter_1Unpredictable, Costly Downtime
a. Staff and corporate productivity are impacted
filter_2Managing IT Costs
a. Overages, surprises and unpredictable IT support costs
b. Frustration with inability to accurately budget for IT
filter_3Managing IT Costs Paying for Downtime
a. IT service provider makes money when vital elements of your network have failed or need service and repair
filter_4Management Effort
 
filter_5Risk and Exposure
a. Security vulnerabilities
b. Data loss or theft
c. Compliance uncertainties
filter_6Strategic Issues
a. Lack of accountability or ownership of problems
b. Lack of optimisation
We are able to provide effective system monitoring by placing various software and hardware sensors on your network, which are connected to our helpdesk and alerting system, and are typically configured to monitor various data points on a network and perform "24/7 round-the-clock" monitoring as well as specific "daily safety checks" each morning.
24/7 "Round-the-Clock Monitoring" Sensors – are typically configured to monitor network and operating system services, system performance, disk space, critical events, ping checks, SNMP checks, TCP service checks, website checks, event log checks, file size checks and bandwidth monitoring.
Typically, our management, monitoring, maintenance and support solutions are designed and aim to achieve the following technical milestones:
check_box Proactive Resolution to Problems
check_box Core Network Devices and Servers being monitored
check_box Crucial Backup alerts being reported to the Optimised Helpdesk
check_box Backups being verified, consolidated, rotated and replicated as required.
check_box Antivirus implemented and being patched across the Network
check_box Exchange and Microsoft Operating systems being Monitored and Maintained
check_box PCs & Virtual infrastructure being Monitored and Maintained
check_box PCs & Virtual infrastructure being Monitored and Maintained

Our Managed IT Services Solution:
check_box Customized solution to best support your business needs
check_box Initial project to stabilize and baseline IT resources
check_box 24×7 performance monitoring of your key devices, applications and IT resources
check_box Remote and onsite maintenance services
check_box Highest call priority over standard customers
check_box Comprehensive reporting, analysis and consultation
check_box Greater transparency into IT performance, trends and planning
At the core of our management, monitoring, maintenance and support operations is our helpdesk, NOC (Network Operations Centre) and datacentre which are equipped with technologies which allow us to effectively manage your network and infrastructure.
Reliable Networks Are Our Business