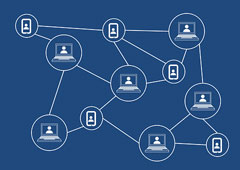 A private IP network on The Vault Corporation network is created in the form of a private IP link between two or more sites. This secure connection enables simple and secure sharing of data between all of your sites, independent of the Internet.
With private IP network as a fully managed solution, you won't have to worry about anything. The Vault Corporation is responsible for managing your private network end-to-end, at the core and at the edge.
This means that we'll take care of everything, including providing you with on-site routers, configuration, monitoring and maintenance, as well as repairs and replacement, if needed – all backed up by a stringent, business-focused service level agreement.
Our managed private IP network solution is designed to enable the delivery of critical business applications with the highest level of security, reliability and stability to all your locations and remote users, allowing them to work with high efficiency no matter where they are. By consolidating voice, video and data into one scalable and secure platform, you will minimise the complexity of your IT operations and ultimately reduce your costs.